WELCOME TO SWEET DIVINE, GATLINBURG, TN
"There is healing in nature"
This spacious, modern cabin is ideal for family getaways, holiday celebrations, or friend groups looking to spend quality time together and explore all the Smoky Mountains have to offer! From the moment you arrive at 'Sweet Divine,' you and loved ones are sure to feel immediately relaxed and at ease! Located just moments from the entrance of Smoky Mountain National Park and Ober Gatlinburg, this elegant 3-bedroom, 2.5-bathroom Gatlinburg vacation rental will serve as the perfect home base. After spending the day enjoying Gatlinburg and Pigeon Forge attractions, return to the cabin for a barbecue on the deck, dip in the private hot tub, just in time for a scenic sunset!
BEAUTIFUL 2 STORY CABIN
AMAZING VIEWS, OPEN FLOOR PLAN WITH SPACIOUS LIVING AREA, WRAP AROUND DECK WITH BREATH TAKING VIEWS OF THE SMOKY MOUNTAINS.
ENJOY THE WARMTH OF A BEAUTFUL STONE FIREPLACE, RELAXING IN THE HOT TUB WHILE GAZING AT THE STARS OR JUST ROCKING ON THE DECK LISTENING TO NATURE.
SMOKY MOUNTAINS
SITTING ON THE DECK, WATCHING THE SMOKY'S ROLL IN AND OUT, LISTENING TO SOUNDS OF TRANQUILITY.
LOST IN 2016 FIRES
SWEET DIVINE IS RISING FROM THE ASHES TO ALLOW YOU TO TAKE IN SOME OF GOD'S BEAUTIFUL NATURE. ENJOY THE PEACEFULNESS OF THE SMOKY MOUNTAINS WHILE SPENDING PRECIOUS TIME AND MAKING LASTING MEMORIES WITH THE ONES
YOU LOVE.
______________________________
FORMING THE EXTENSION
O.P. AND CODY ARE CONSTRUCTING THE FORMS FOR THE EXTENSION OF THE FOUNDATION. CEMENT IS SCHEDULED FOR LATER TODAY. - 11/27/2019
YEP...THAT IS RIGHT
THIS WAS A FEW MONTHS AGO. YOU WILL ONLY GET TO EXPERIENCE THE AFTER.
I WAS THINKING IT TOO...
I HAVE A LOT MORE RESPECT FOR THE MOUNTAINS. I NOW WISH I WOULD HAVE HIRED IT DONE. GETTING WISER. LOL
NOT BAD FOR A CITY BOY...
I THOUGHT "THIS IS EASY". I JUST NEED 1 WEEKEND AND THE RIGHT EQUIPMENT. "BOY, WAS I WRONG".
WHEN IT WAS DONE, I NEEDED A HOT TUB AND TENNESSEE WHISKEY.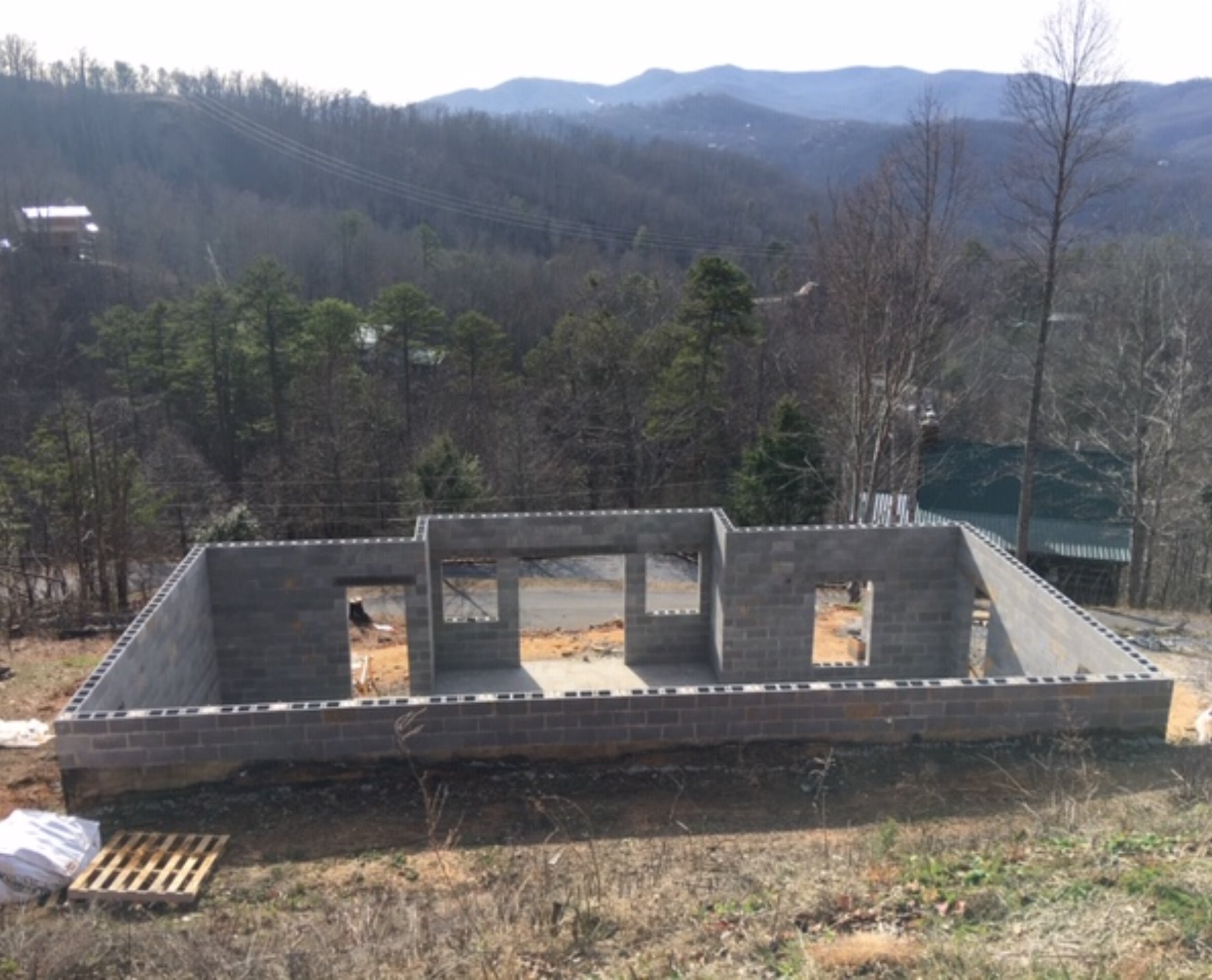 LOWER LEVEL WALLS ARE UP
FOUNDATION WALLS ARE UP. ALMOST READY TO START SETTING THE LOGS. - 12/28/2019
DRIVING UP TO THE CABIN
ONCE YOU MAKE THE TURN TO SWEET DIVINE, THIS WILL BE YOUR VIEW OF THE CABIN. - 12/28/19
LOWER LEVEL VIEW
THE VIEW FROM THE LOWER LEVEL. WALK OUT TO THE PATIO AND HAVE A DRINK OF YOUR CHOICE. 10 FOOT CEILING. PLENTY OF ROOM. - 12/28/19
2 DRIVEWAYS
UNCOMMON IN THE MOUNTAINS, SWEET DIVINE HAS 2 DRIVEWAYS. PLENTY OF SPACE FOR YOUR VEHICLES.
LOWER LEVEL ROOMS
BASEMENT WALLS ARE GOING UP. PLENTY OF SPACE FOR EVERYONE. - 4/4/2020
FLOOR IS DOWN
STARTING TO TAKE SHAPE. YOU CAN NOW START TO ENVISION THE VIEWS FROM INSIDE THE CABIN. - 4/4/2020
WALLS GOING UP
THIS PART IS GOING QUICK. SWEET DIVINE IS STARTING TO DEVELOP SOME CHARACTER. - 4/8/2020
WALLS STILL GOING UP
ONCE THE WINDOWS ARE CUTOUT AND INSTALLED IN FRONT, THE VIEWS OF THE MOUNTAINS WILL BE AMAZING RELAXING IN THE LOFT. - 4/13/2020
ALL WALLS ARE UP
LOOKS EASIER THAN IT IS. THE NUMBER OF BRACES TO KEEP IT STANDING AND SAFE IS EYE OPENING. - 4/17/2020
HAD A GUEST
YEP, THEY ARE HERE. CHECKING OUT THE PROGRESS. MOMMA HAD A COUPLE CUBS. THEY LEFT US SOME TRACKS AS WELL. - 4/26/2020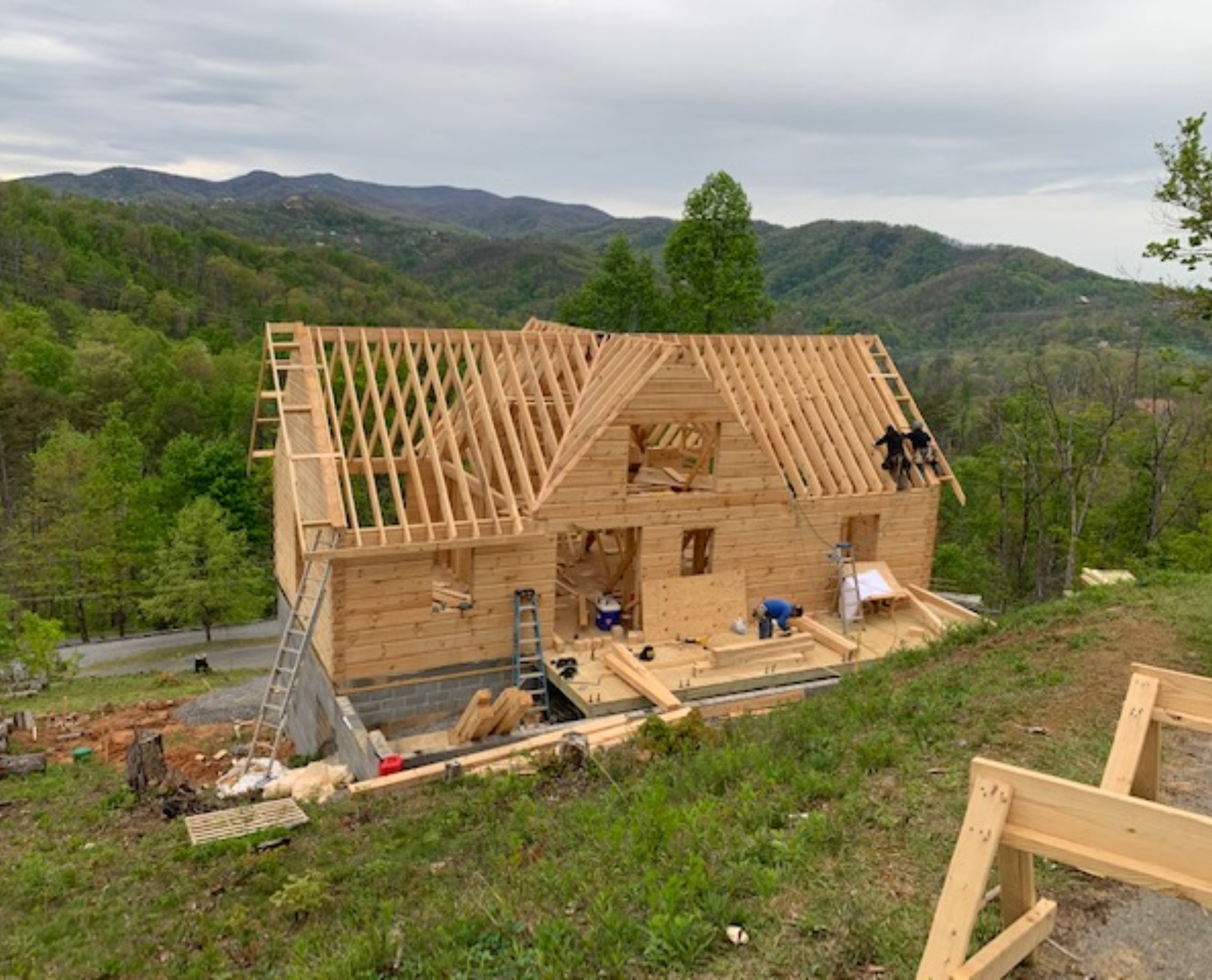 STARTING TO DRY IT IN
THIS PART IS STILL GOING QUICK. THEN THE INSIDE REALLY SLOWS DOWN.
- 4/28/2020
BUILDING THE PORCH
THE AREA LEFT OF THE PORCH IS FOR THE GRILL. THERE WILL BE A PLACE TO SIT AND LAY YOUR DRINK AS YOU SLAVE OVER THE GRILL. WINK! WINK!!
- 4/30/2020
CAN YOU IMAGINE?
SITTING ON THE DECK WITH LOVE ONES, MAKING MEMORIES AND SOAKING UP THE MOUTAINS AND ALL THEY HAVE TO OFFER.
- 6/20/2020
REGULAR VISITOR
THIS LITTLE GUY HAS BEEN AROUND OFTEN. HE WAS BACK TODAY! JUST REMEMEMBER THE SAYING "A FED BEAR IS A DEAD BEAR". NO FEEDING.
BE STILL!
GATLINBURG IS FULL OF PLACES TO REMIND US THAT WE ARE IN GOD'S COUNTRY. YOU WILL FIND A LIST OF THESE DISCOVERIES INSIDE SWEET DIVINE. PLEASE SHARE YOUR'S AS WELL.
LOCATION: FOOTHILLS PARKWAY - 5/15/2020
EASY ACCESS RAMPS
YOU CAN EASILY ACCESS BOTH LEVELS OF THE CABIN WITHOUT STEPS. EVERYONE CAN ENJOY SWEET DIVINE WITHOUT CONCERNS OF ACCESS.
GETTING READY!
GOT THE SIGN IN THE MAIN DRIVEWAY SO YOU KNOW WHERE YOU ARE AT.
- 10/26/2020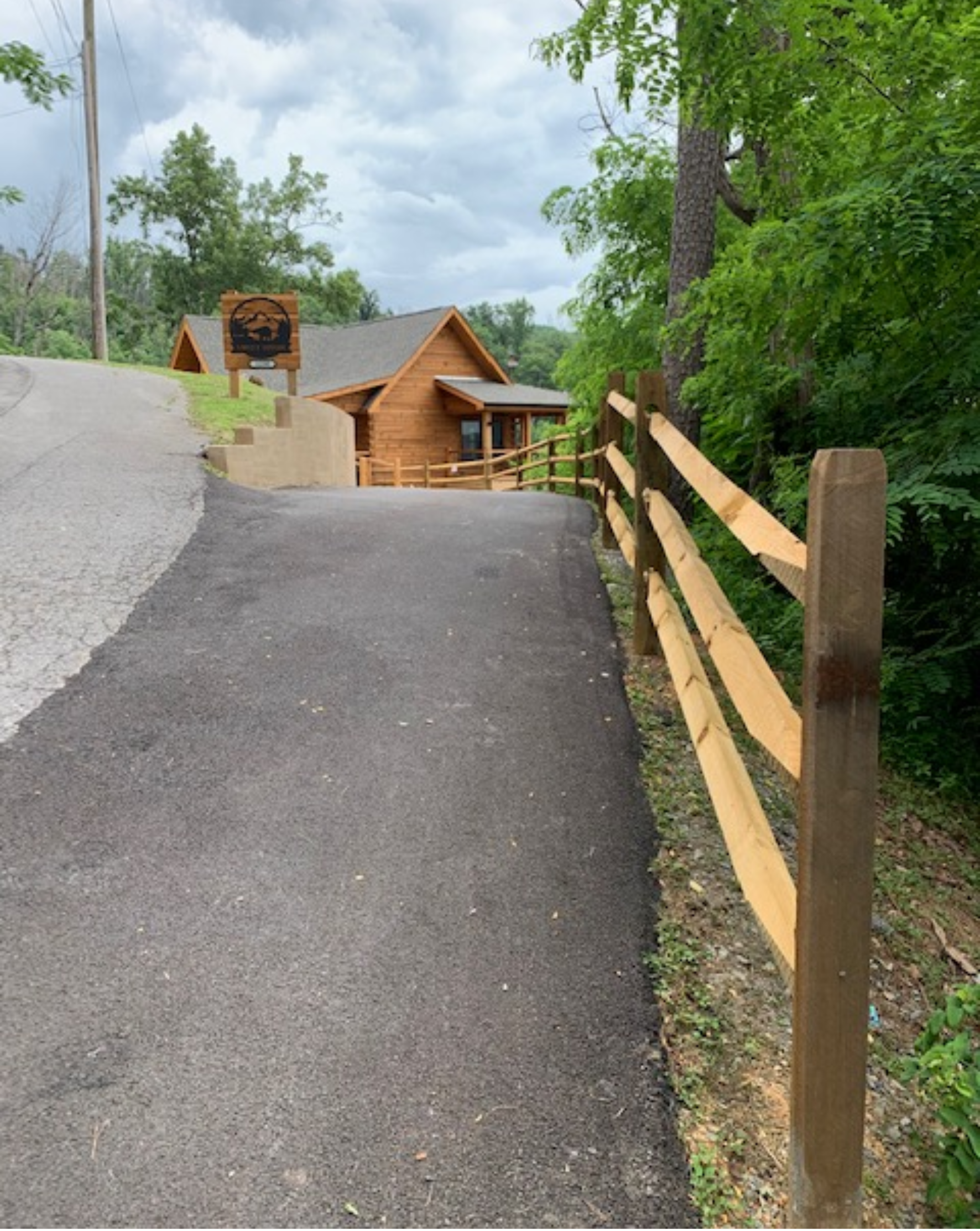 UPPER DRIVEWAY
THIS IS THE MAIN DRIVEWAY.
LOWER DRIVEWAY
FRESHLY BLACK TOPPED.
LIVING ROOM
COZY FIREPLACE AS IT IS STARTING TO GET COOLER THIS TIME OF YEAR.
LIVE EDGE TABLE
BLACK WALNUT TABLE
MASTER BEDROOM
HICKORY CUSTOM BED.
BEDROOM 3
ALL BEDROOMS HAVE DOORS TO OUTSIDE DECK OR PATIO.
ARCADE GAMES
BRING BACK THE DAYS OF PACMAN, FROGGER AND NUMEROUS OTHER GAMES OF THE 70'S AND 80'S.
ENTRY WAY
RIGHT OFF THE FRONT DOOR.
DOWNSTAIRS TV ROOM
ENJOY A LARGE FLAT SCREEN TV UNDER A BLANKET OR WATCHING YOUR FAVORITE SPORTS TEAM.
THE LOFT
SIT IN THE LOFT READING A BOOK OR ENJOYING SOME QUIET TIME
FRONT
LARGE PORCH WITH GRILLING AREA.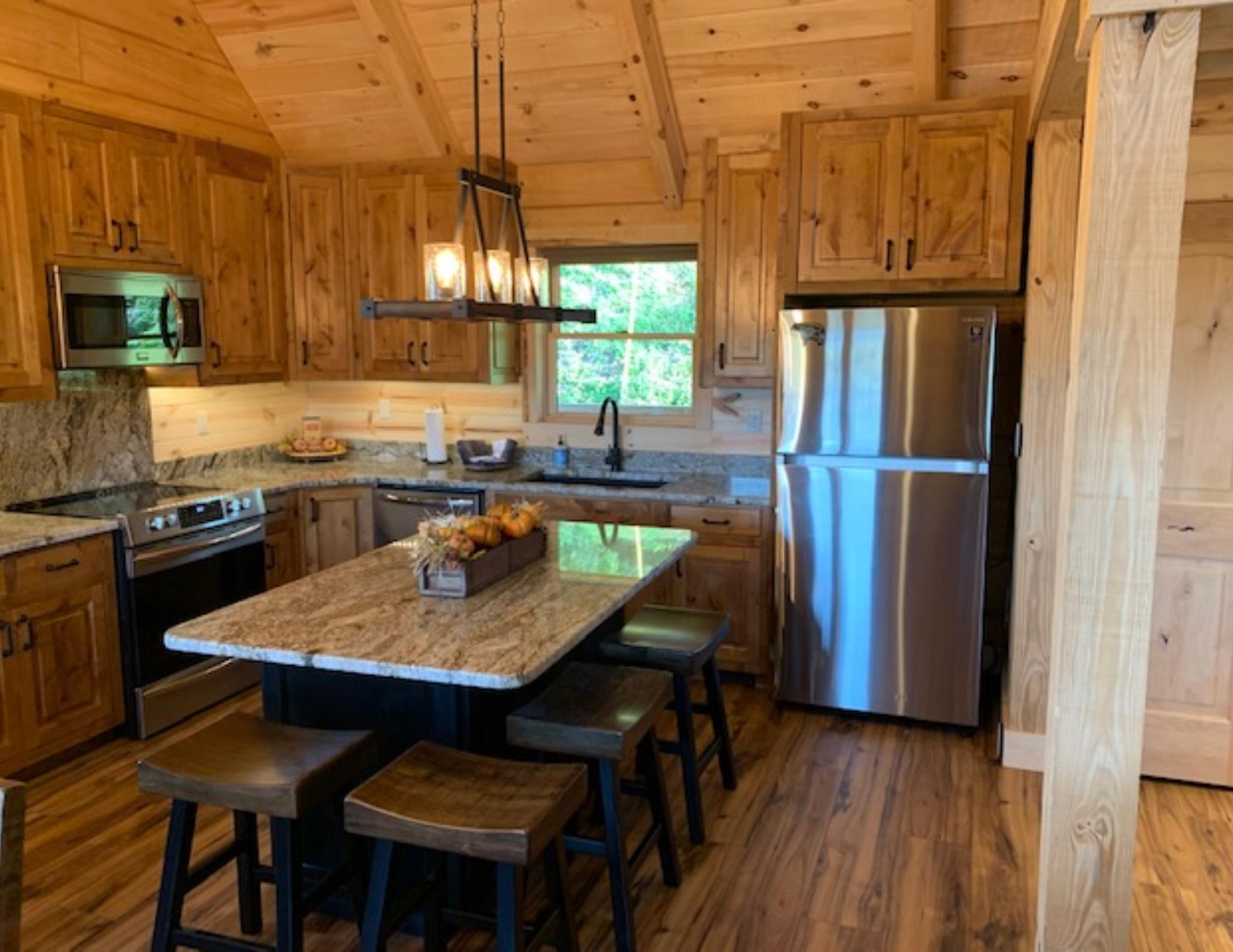 KITCHEN
FULL SIZE KITCHEN AND APPLIANCES. PLENTY OF BAR SPACE AS WELL.
THE VIEW
YOU WILL NEVER GET TIRED OF THIS.
PLENTY OF ROOM ON THE DECK
SOAKING IN THE BEAUTIFUL VIEW OF THE MOUNTAINS.
MASTER BATH SHOWER
LARGE WALK-IN WITH RAIN SHOWER HEAD.
PLENTY OF CHAIRS TO CHOOSE FROM
LAUNDRY AREA
FULL SIZE WASHER AND DRYER
HOT TUB
READY ALL HOURS OF THE DAY AND NIGHT.
GREAT GRILLING AREA
PERFECT AREA FOR GRILLING WHILE HANGING OUT WITH FRIENDS AND FAMILY.
BASEMENT BATH
ALL BATHROOMS HAVE LIVE EDGE TOPS AND NATURAL STONE SINKS.
LOFT OVERLOOK
LOFT OVERLOOKS KITCHEN, DINING ROOM AND LIVING ROOM.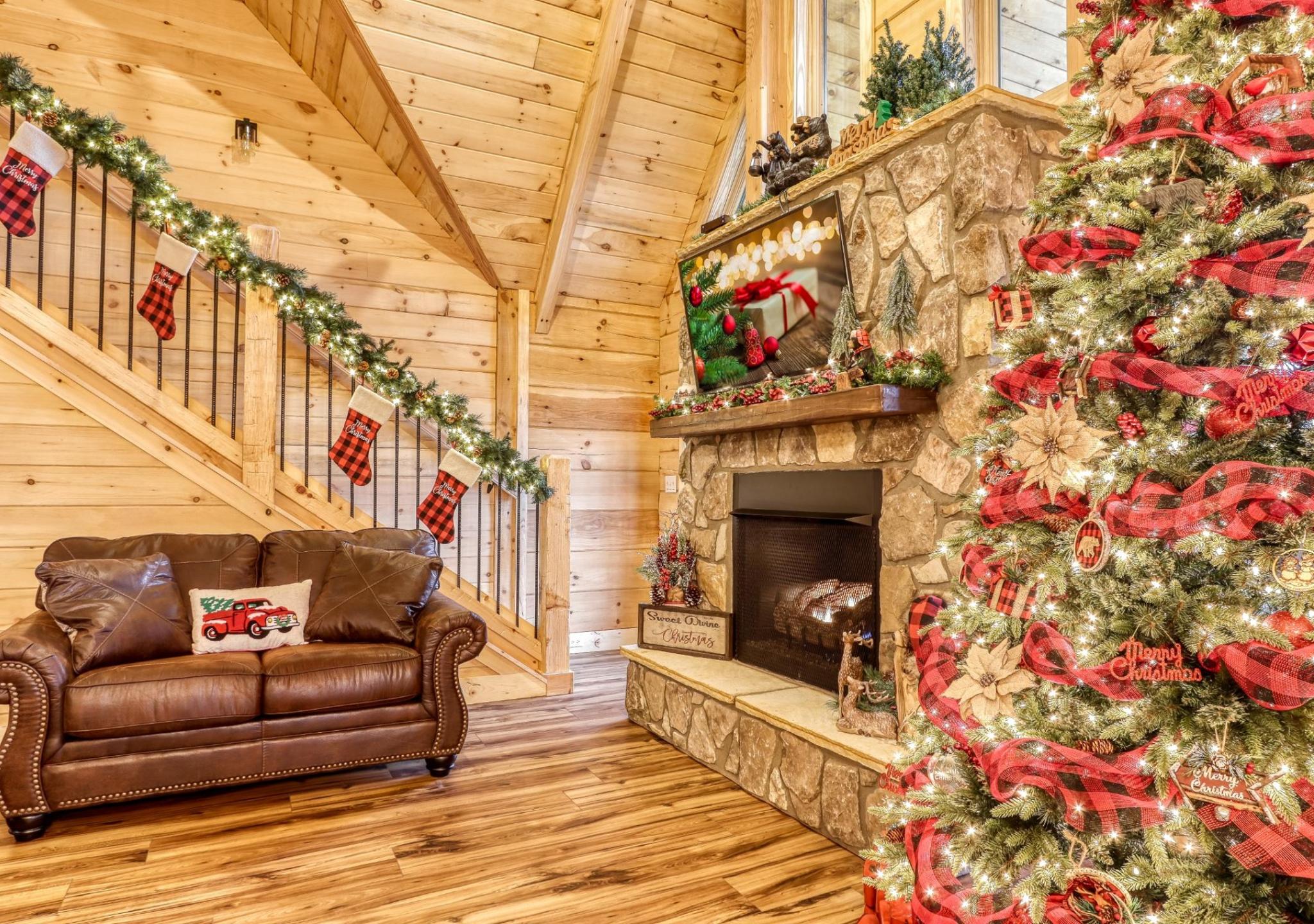 CHRISTMAS
TIME
THE TIME OF YEAR WE CELEBRATE THE GIFT OF CHRIST. MAY YOU ALL HAVE A SAFE AND MERRY CHRISTMAS!
We have had several "black bear" guests thus far in 2021. This one we had to share.
This photo was taken on the inside of the cabin by one of our guests. What an experience with nature! This momma bear had 2 of these adorable cubs with her.


PERFECT LOCATION
Sweet Divine is located 5 minutes off the Spur (Main roads that connect Gatlinburg and Pigeon Forge. Exit Beach Branch Road off the Parkway (the Spur).
You are right in the middle of Gatlinburg and Pigeon Forge. Go left and you are 3 miles to Gatlinburg. Go right and you are 7 miles to Pigeon Forge.
Or take a scenic drive to Cades Cove or many other beautiful wonders and sights of the Great Smoky Mountains.
Sweet Divine is now offered on 6 different vacation rental websites. Conveniently providing the direct link to each.
Please feel free to contact us directly if you have any questions.
***** STRICT NO PETS POLICY *****
Owner has severe allergies to certain animals. Service animals are not to be left alone anytime in the cabin. Please provide ESA paperwork to Guest Contact for service animals.
Available Now Available Now Available Now Available Now Available Now Available Now
Hosting Agency